15 Dr.Seuss Books that every child must read
Happy birthday, Dr. Seuss!
March 2 is the birthday of the late children's book author Dr. Seuss. Not that we need an excuse to read any of his classics, but Seuss's birthday is a fun time to enjoy them with your kids and, maybe, delve into the life of the author himself.
Born Theodor Seuss Geisel on March 2, 1904, Dr. Seuss is the most beloved children's book author of all time. He began his career as a magazine and advertising illustrator. During World War II, he even worked in the animation department of the U.S. Army, work that later earned him an Academy Award.
His first children's book was published in 1937: "And To Think That I Saw It on Mulberry Street." After the war, he focused solely on children's books, bringing generations to the familiar titles we know so well. By the time of his death in 1991, his works had sold over 600 million copies and had been translated into more than 20 languages.
Dr. Seuss inspired the imaginations of millions of young readers through his mastery of wordplay and rhyme. From classics like "The Cat in the Hat" and "How the Grinch Stole Christmas," to stories that taught valuable lessons like "The Lorax" and "The Butter Battle Book," Dr. Seuss' books are a must read for every child.
Here are our favourite 15 Dr.Seuss must-reads:
1. Oh, the Places You'll Go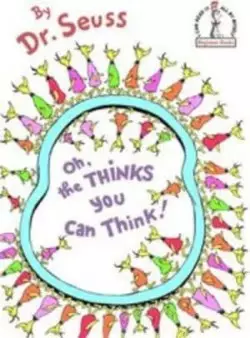 The is the last book published before Dr. Seuss's death in 1991. It features the inspirational messages of exploration and self-discovery and the child will feel increasingly encouraged to discover the will to succeed. Dr. Seuss's wonderfully wise Oh, the Places You'll Go! is the perfect send-off for kids—from nursery school, high school, college, and beyond! From soaring to high heights and seeing great sights to being left in a Lurch on a prickle-ly perch, Dr. Seuss addresses life's ups and downs with his trademark humorous verse and illustrations, while encouraging readers to find the success that lies within.
A Famous Quote from this book teaches children that they can determine their own destiny
"You have brains in your head.
You have feet in your shoes.
You can steer yourself
Any direction you choose."
Listen to a read-aloud of this book.

2. Cat in the Hat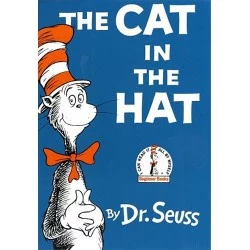 The Cat in the Hat is at the top of every Dr. Seuss books list. In this classic story of kids bored on a rainy day, a giant cat wearing a red-and-white striped hat suddenly appears with his buddies, Thing One and Thing Two. The unexpected visitors create such havoc, Sally and her brother wonder if they'll be able to get the mess cleaned up before their mom sees. This is a story of the cat that transformed a dull, rainy afternoon into a magical and just-messy-enough adventure. This book really will help children learn to read. With his simple and often single-vowel vocabulary, The Cat in the Hat is a must for any child's library.
Listen to a read-aloud of this book.

3. There's a Wocket in my Pocket!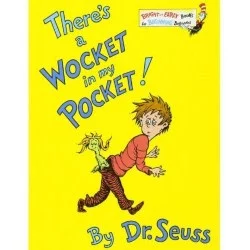 With a host of crazy crackpot creatures, from wockets in pockets to waskets in baskets, this hilarious books helps young children set off on the road to reading. Flipping through the quirky, colourful pages of There's a Wocket in My Pocket!, your little one will discover a curiosity for worlds of adventure that exist right at home. A Nooth Grush (who sits on a toothbrush) and a Zelf on the shelf are joined by plenty of other personality-packed characters who lurk around the different corners of the home. This book will have listeners calling out rhymes and chortling over witty details in the illustrations!
Listen to a read-aloud of this book.

4. One Fish, Two Fish, Red Fish, Blue Fish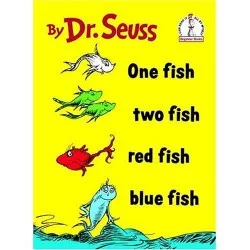 One Fish Two Fish Red Fish Blue Fish is a 1960 children's book by Dr. Seuss. A simple rhyming book for learner readers, it is a book with a freewheeling plot about a boy and a girl, and the many amazing creatures they have for friends and pets. Kids will have a blast reading about a little boy and girl, Jay and Kay, and the many amazing creatures they keep as friends and pets. The simple rhymes are also teaching readers how to count and learn colours at the same time!
A few famous quotes from this book:
Teaches children to try new things and have fun and enjoy life.
"If you never did
You should.
These things are fun.
And fun is good."
Teaches children that Tomorrow is a new day. Enjoy the present and look forward to the future.
"Today is gone.
Today was fun.
Tomorrow is another one."
Listen to a read -aloud of this book.

5. What Pet should I get?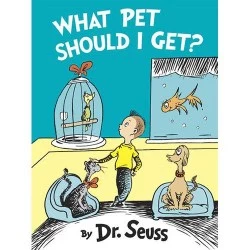 Dr. Seuss authored more than 40 books over his long career, but this title of his was just published in 2015. The full text and illustrations were discovered in a box of unpublished manuscripts by his widow in 2013. It features the kids from One Fish Two Fish Red Fish Blue Fish making a classic childhood decision: choosing a pet. The tale captures a classic childhood moment—choosing a pet—and uses it to illuminate a life lesson: that it is hard to make up your mind, but sometimes you just have to do it!
Listen to a read-aloud of this book.

6. The Lorax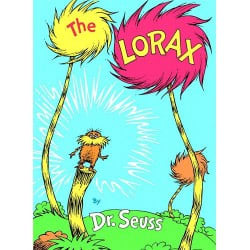 Long before "going green" was mainstream, Dr. Seuss's Lorax spoke for the trees and warned of the dangers of disrespecting the environment. In this cautionary rhyming tale (printed on recycled paper) we learn of the Once-ler, who came across a valley of Truffula Trees and Brown Bar-ba-loots, and how his harvesting of the tufted trees changed the landscape forever. With the release of the blockbuster film version, the Lorax and his classic tale have educated a new generation of young readers not only about the importance of seeing the beauty in the world around us but also about our responsibility to protect it.
A famous quote from this book that teaches children that individuals can make a difference, and it starts with caring and taking responsibility.
"Unless someone like you cares a whole awful lot,
Nothing is going to get better. It's not."
Listen to a read-aloud of this book.

7. Seuss's Sleep Book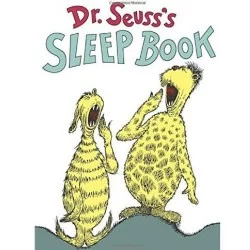 Celebrate sleep with Dr. Seuss's classic rhyming bedtime story picture book. Van Vleck, a very small bug, is getting sleepy, and his yawn—contagious as yawns are—sets off a chain reaction, making all those around him feel sleepy, too! With typically Seussian nods to alarm clocks, sleepwalking, and snoring, this charming ode to bedtime will lull listeners (and readers) toward dreamland. Kids love snoozing off after their imagination runs wild — or woozy — through the pages of Dr. Seuss's Sleep Book. In this book, everyone yawns, and it starts with just one silly Seussian creature who opens their mouth wide before the entire population of Seussians find themselves yawning to sleep. The writing is dizzying and jolly, and the story of the yawn spreading across the land is clever. The art, often in shadowy colours, contributes to the fun and the drowse.
Listen to a read-aloud of this book.

8. How the Grinch Stole Christmas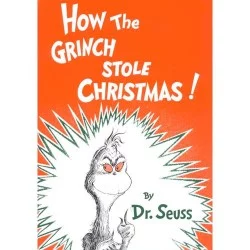 Famously portrayed by Jim Carrey in a live-action movie, The Grinch, Dr. Seuss's most beloved villain, starts out hating Christmas and stealing presents from his Whoville neighbours. But when the celebration goes on despite his best efforts, the Grinch learns the true meaning of the holiday as the guest of honour at the Whos' Christmas dinner.
This heartwarming story about the effects of the Christmas spirit will grow even the coldest and smallest of hearts. Like mistletoe, candy canes, and caroling, the Grinch is a mainstay of the holidays, and his story is the perfect gift for young and old.
And don't forget to celebrate Grinch-mas this Christmas season, the annual holiday tradition inspired by How the Grinch Stole Christmas that encourages readers to grow their hearts three sizes by doing good deeds!
Listen to a read-aloud of this book.

9. Fox in Socks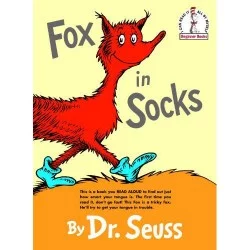 Fox in Socks teaches a baffled Mr. Knox some of the slickest, quickest tongue-twisters in town and you can read along too – if your tongue can manage it! Full of wacky tongue twisters, the Fox in socks challenges his friend, Mr. Knox, who lives in a box, to recite a series of increasingly complex rhymes. It's not a book you can read five times fast, but it's one you and your kids will love to read over and over again. A book full of wild, wild, wild tongue twisters. Read and go mad!
Listen to a read-aloud of this book.

10.Horton Hears a Who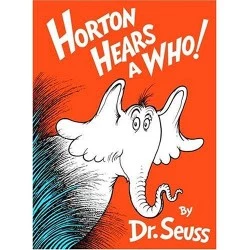 "A person's a person no matter how small," is a powerful message that's sure to resonate with pint-sized readers. Featuring several recurring characters, including the tiny Whos of Whoville, Horton the elephant proves to be an unlikely ally for his mini friends, showing kids that what makes people different also makes them great. Without a doubt, one of the crowned jewels of Dr. Seuss' work, presenting one of his strongest messages to the human civilization. This charming tale stands up and becomes a relevant reading for everybody to understand the respect to any kind of life no matter how small.
A famous quote from this book that teaches kids that all people are equal, and everyone has a voice.
"Don't give up! I believe in you all.
A person's a person, no matter how small!
And you very small persons will not have to die
If you make yourselves heard! So come on, now, and TRY!"
Listen to a read-aloud of this book.

11.Green Eggs and Ham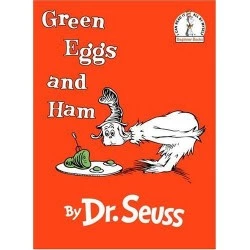 Featuring the silly and humorous poetry Dr. Seuss is known for, it's hard to believe that this iconic book consists of just 50 words! In this most famous of cumulative tales, the list of places to enjoy green eggs and ham, and friends to enjoy them with, gets longer and longer. Follow Sam-I-am as he insists that this unusual treat is indeed a delectable snack to be savoured everywhere and in every way. As a master of language and rhyme, Dr. Seuss, through the character of Sam-I-Am, convinces both kids and adults alike that a plate of green eggs and ham is the most delicious thing in the world.
Listen to a read-aloud of this book.

12. I can read with my eyes shut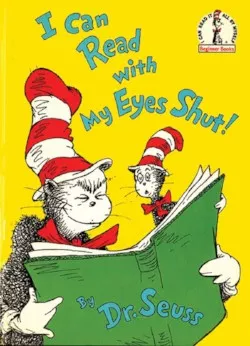 Dr. Seuss and the Cat show that reading is fun—even when you don't look at the words!—in this classic Beginner Book. "The more that you read, the more things you will know. The more that you learn, the more places you'll go." Whether reading in bed or in purple or brown, reading is fun—even upside down. And whether reading about hoses or roses or owls on noses, I Can Read with My Eyes Shut is a hysterical way to discover the joy of books. In this delightful book, Dr. Seuss celebrates the joys of reading, encouraging young children to take pride in their budding reading abilities.
Famous Quotes from this book that teaches kids
Be curious about the world around you, and never stop learning
"There are so many things you can learn about, but
You'll miss the best things if you keep your eyes shut."
Knowledge is power, and books can transport you to amazing places.
"The more that you read, the more things you will know.
The more that you learn, the more places you'll go. "
Listen to a read-aloud of this book.

13. Oh The Thinks you can think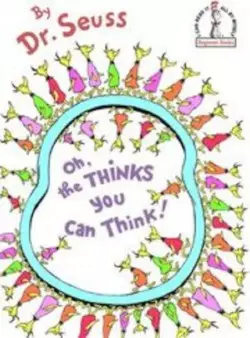 Young readers will delight in Oh, the Thinks You Can Think! which celebrates the imagination and encourages young readers to think . . . about thinking! "Think left and think right and think low and think high. Oh, the Thinks you can think up if only you try." This book contains one of Dr. Seuss's solid-gold morals, the joy of letting one's imagination rip. A mad outpouring of made-up words, and intriguing ideas.
A famous quote from this book that shows kids that they are capable of enormous creativity.
"Think left and think right and think low and think high.
Oh, the thinks you can think up if only you try!"
Listen to a read-aloud of this book.

14. Hop on Pop
This charming book introduces young children to words that rhyme, such as Hop and Pop, Cup and Pup, Mouse and House, Tall and Small. And once they have learned to recognize one word, children soon find to their delight they can read another simply by changing the first letter. Loved by generations, this "simplest Seuss for youngest use" is a Beginner Book classic. See Red and Ned and Ted and Ed in a bed. And giggle as Pat sits on a hat and on a cat and on a bat . . . but a cactus? Pat must NOT sit on that!
Listen to a read-aloud of this book.

15.The Butter Battle Book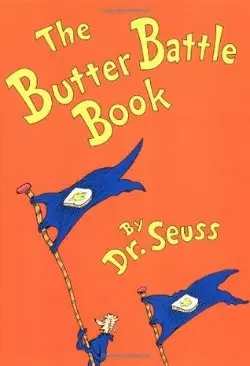 Dr. Seuss chronicles the feud between the Yooks and
the Zooks from slingshots through sophisticated weaponry until each side has
the capacity to destroy the world. The language amuses, the drawings are zesty
and humorous. The Butter Battle Book asks kids to confront an intellectually and morally challenging scenario for themselves. Is grandfather Yook right? Is it okay to threaten someone to keep them from threatening you? Are the Yooks and the Zooks really that different? No one's telling them what to believe—Dr. Seuss is just providing some food for thought. The book inculcates respect and the very essential feeling of tolerance into children. The Butter Battle Book" is definitely one of Dr. Seuss' most impactful and darkest stories ever told!
Listen to a read-aloud of this book.

Which is your favourite Dr.Seuss book? Let us know in the comments.
For Seuss-centric fun at home, there are a number of resources available at the official website where you'll find videos, printables, and craft ideas.
Last modified on Thursday, 09 July 2020 14:27

The Rabbit Hole Bookstore - Where children discover the magic of books! The Rabbit Hole Bookstore is a passionate initiative to bring the world of literature and books close to our children. We are an independent children's bookstore with children at the heart of everything we do. Created specifically to bond the child and the book and to allow children to encounter books in new and exciting ways, The Rabbit Hole brings with it specially curated children's books and other products that nurture creativity and a host of other skills and let the children explore the horizons of imagination and provide an opportunity to find their inner connection with the world of literature. Explore books and beyond at The Rabbit Hole!
Leave a comment
Make sure you enter all the required information, indicated by an asterisk (*). HTML code is not allowed.