7 Reasons to take your children to the library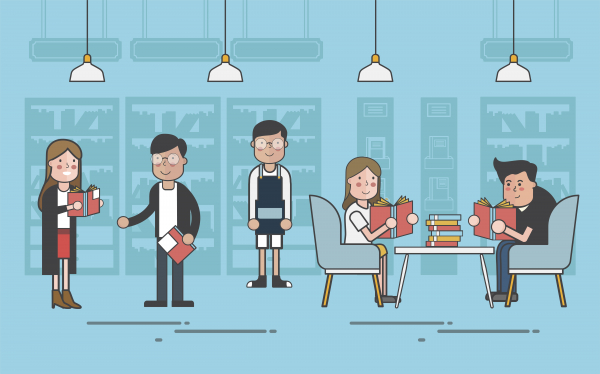 Take your children to the library. Here is why.
Image by rawpixel.com
Reading is brain food!

I don't have to look far to find treasures, I discover them every time I visit a library."
-Michael Embry


Research shows that reading aids in brain development, more so in your child's early years of life. When kids are read to, their brain cells are turned on, and existing links among brain cells are strengthened and new cell links are formed. Libraries play a very important role in helping children enjoy reading and helping them practice the skill. Libraries no longer just provide access to books; they promote book clubs, author meets, reading events, storytelling, rhyme time and much more! Whether big or small, your local library can give your whole range of benefits that go far beyond books. Here are 7 good reasons to take your children to the library today:


take your children to the library - Here is Why
Easy access to Education and Entertainment


A visit to the library provides children with access to a variety of books and magazines; more than we can afford to buy. At the library, you can check out books, turn your books back in as soon as they're read, and take home a whole new pile – all without worrying about your budget! Libraries provide access to many edutainment opportunities – from author workshops to book clubs and more. A library is they a treasure trove of stuff to do!



Community building


Libraries are a hub for all things information, or workshops and events. Thus it is a fantastic place to meet people and foster a sense of community togetherness. It provides a safe place for people, of all ages, whether like-minded or different to connect with others. At a library, children engage with books and magazines, with librarians, and with other kids! Thus, library time is not just passive but active and exciting!



Responsibility, Sharing & Caring for community property


Libraries require you to check out books and this very act teaches kids an important lesson in sharing resources and taking care of things. They know they are responsible to handle community property and treat it well so they can, in turn, pass it on to the next reader.



Place of Culture


Libraries introduce children to the art as well as the artists. Workshops and events at libraries expose children to culture. Not just that, they meet the authors or the storytellers or the poets and learn to appreciate their culture and community. Many libraries offer regular children's programs that make stories come to life - Puppets, costumes, and animated storytellers and more!



Foster Literacy


Regular visits to the library, inevitably encourage reading! Reading is also one of the best activities to provide the foundational language and literacy skills your child needs to succeed. Libraries provide avenues to improve literacy through not just books but also reading programs, contests, writing workshops etc. Thus, libraries also play a role in improving academic performance.



Piques Curiosity and Discovery in children


Libraries are "casual discovery" by nature. So children can browse books without pressure to buy. This allows them to be serendipitous. You will never know what they may like. And still, they can try it at low risk. Children are also more likely to

read books that they pick themselves

!
.



Recommendations


When you walk into a library you get recommendations for books that you may not know of or think of from the librarian. This can broaden children's tastes and expand their minds and vocabularies.


Take your kids to the library. It offers more than just a short-term benefit.
So get your child a library membership! Celebrate the moment and go home and read!
Last modified on Tuesday, 02 February 2021 11:17
Leave a comment
Make sure you enter all the required information, indicated by an asterisk (*). HTML code is not allowed.