Books about Books & Reading (Promote reading while you read! Explore these books about reading, libraries, librarians and books!)
I love books and my favorite category of book is books about books! ​Books about reading, books about libraries, books about libraries and books about reading. All of these are highly motivating to rediscover the pleasure of reading.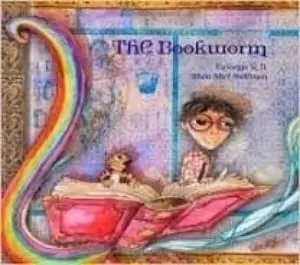 The Bookworm by Lavanya R.N
Sesha is a silent boy who reads all the time … and he has a little brown book that no one has ever seen the inside of. One day, Sesha speaks, and no one understands why he speaks differently. But when they see his brown book and the magic he can create, Sesha becomes a whole new person!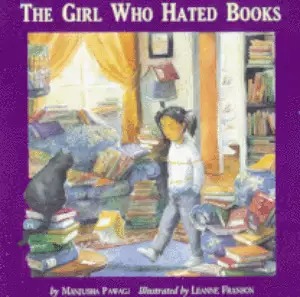 The Girl who hated Books by Manjusha Pawagi
Meena hates book with a passion which is hard on her because she lives in a house full of books and both her parents are avid readers. Whenever her parents as Meena if would like to read something she replies "I hate books."
One day an enormous stack of neglected and unwanted children's books topples over and the most extraordinary things happens – the characters in the books pour of their books and soon Meena's house is bursting with animals, princesses, teddy bears, fairy tale characters and more. Now Meena has to figure out how to get all the characters back into their correct books. Unfortunately the characters themselves have no idea which book to get back into so Meena has to help them and there appears to be only one way to do this – Meena has to read all the books.
Even reluctant readers will find themselves getting intrigued by this clever little story. They may even consider, just as Meena comes to do, that perhaps books do indeed have something to offer. Perhaps they are not just a boring collection of words.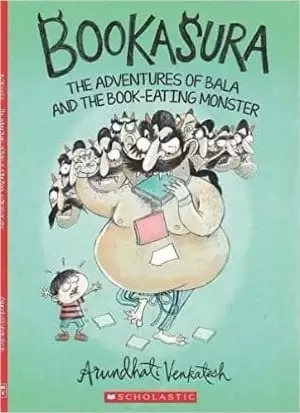 Bookasura: The Adventures of Bala and the Book - Eating Monster by Arundhati Venkatesh (Author), Priya Kuriyan (Illustrator)
A strange many-headed creature, Bookasura, makes an appearance when Bala is at his grandparent's house. Bala keeps Bookasura at bay by supplying him with a steady stream of books. But Bala will soon run out of books. What then? Will Bookasura eat Bala up? Or will Bala be able to save himself?
A delightful tale about the power of stories and imagination. Celebrate the love of books and reading with Bala and Bookasura!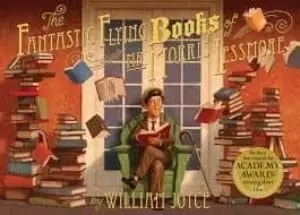 The Fantastic Flying Books of Mr. Morris Lessmore by William Joyce
Morris Lessmore loved words.
He loved stories.
He loved books.
But every story has its upsets.
Everything in Morris Lessmore's life, including his own story, is scattered to the winds.
But the power of story will save the day.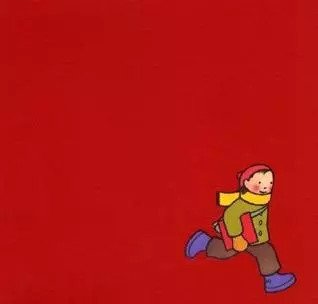 The Red Book by Barbara Lehman
This book is about a book. A magical red book without any words. When you turn the pages you'll experience a new kind of adventure through the power of story.Winning a Caldecott Honor for its illustrations of rare detail and surprise, The Red Book crosses oceans and continents to deliver one girl into a new world of possibility, where a friend she's never met is waiting. And as with the best of books, at the conclusion of the story, the journey is not over.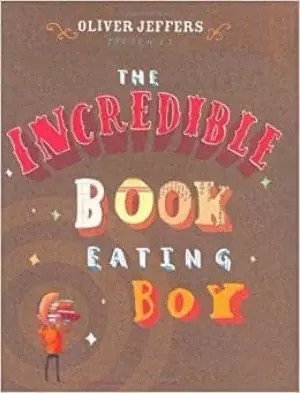 The Incredible Book Eating Boy by Oliver Jeffers
Like many children, Henry loves books. But Henry doesn't like to read books, he likes to eat them. Big books, picture books, reference books . . . if it has pages, Henry chews them up and swallows (but red ones are his favorite). And the more he eats, the smarter he gets—he's on his way to being the smartest boy in the world! But one day he feels sick to his stomach. And the information is so jumbled up inside, he can't digest it! Can Henry find a way to enjoy books without using his teeth?
With a stunning new artistic style and a die-cut surprise, Oliver Jeffers celebrates the joys of reading in this charming and quirky picture book. It's almost good enough to eat.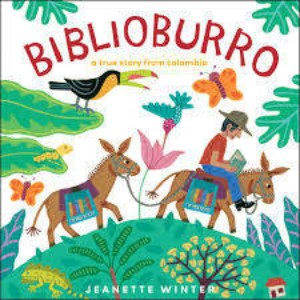 Biblioburro: A True Story from Colombia by Jeanette Winter
Luis loves to read, but soon his house in Colombia is so full of books there's barely room for the family. What to do? Then he comes up with the perfect solution--a traveling library! He buys two donkeys--Alfa and Beto--and travels with them throughout the land, bringing books and reading to the children in faraway villages. Beautiful! Complete with an author's note about the real man on whom this story is based.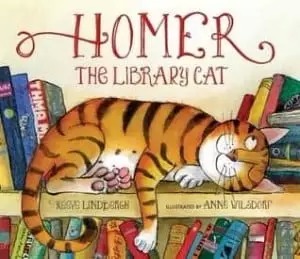 Homer, the Library Cat by Reeve Lindbergh (Author), Anne Wilsdorf (Illustrator)
Homer is a very quiet cat. He lives in a very quiet house with a very quiet lady. But one day, while the lady is away, Homer hears a very loud sound, and out the ​window he goes! Poor Homer just wants to find a spot where he can curl up and be quiet, but his hometown is a surprisingly loud place. Will Homer find a bit of calm in all the noise? And will he ever find his quiet lady? Reeve Lindbergh's cheerful, rhyming text pairs with Anne Wilsdorf's charming illustrations for a story-lover's ode to everyone's favorite quiet place.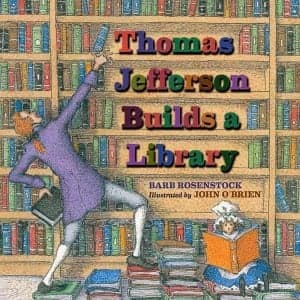 Thomas Jefferson Builds a Library by Barb Rosenstock (Author), John O'Brien (Illustrator)
As soon as Thomas Jefferson learned to read, he found his passion: books, books, and more books! Before, during, and after the American Revolution, Jefferson collected thousands of books on hundreds of subjects. In fact, his massive collection eventually helped rebuild the Library of Congress--now the largest library in the world. Barb Rosenstock's rhythmic words and John O'Brien's whimsical illustrations capture Jefferson's passion for the written word as well as little-known details about book collecting. Author and artist worked closely with experts to create the first picture book on Jefferson's love of reading, writing, and books. An author's note, bibliography, and source notes for quotations are also included.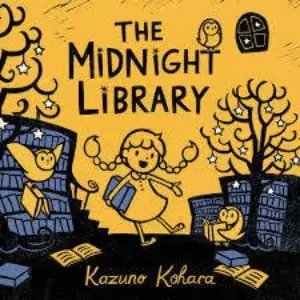 The Midnight Library by Kazuno Kohara
Once there was a library which opened only at night... When we are fast asleep in bed, the Midnight Library opens its doors to all the night-time animals. Inside the library the little librarian and her three assistant owls help each and every animal find the perfect book. But tonight is a very busy one...
The Librarian of Basra: A True Story From Iraq By: Jeanette Winter
In spite of looming war, librarian Alia Muhammed Baker was able to save the books from the library of Basra by moving them to safety. Simple forms and deep colors in a
naïve style evoke the war without being explicit. The bravery and action of one person celebrates both everyday heroism and books as a unifying force.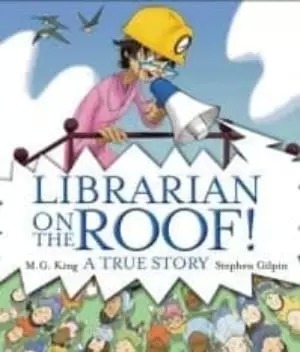 Librarian on the Roof! by M.G. King 
When RoseAleta Laurell begins her new job at the Dr. Eugene Clark Library in Lockhart, Texas, she is surprised that the children of the town think the library is for adults. She vows to raise the money for a children's section and spends a week living and working on the library roof, even surviving a dangerous storm. With the help of the entire town, RoseAleta raises over $39,000 from within the community and across the country. "Today if you look through the front window of the Eugene Clark Library, you will see shelves stacked full with children's books and tables and chairs just the right size. You will see artwork on the walls, and a row of busy computers. Best of all, you will always find crowds of children who love to read and learn inside the walls of the oldest library in Texas."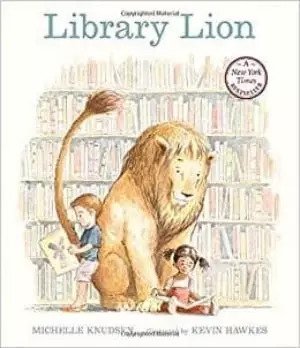 Library Lion by Michelle Knudsen (Author), Kevin Hawkes (Illustrator)
Miss Merriweather, the head librarian, is very particular about rules in the library. No running allowed. And you must be quiet. As long as you follow the rules, you are permitted to enjoy the library. There are no rules about lions in a library, and why would there be? But one day, a lion walks into Miss Merriweather's library, and no one is sure what to do. It turns out that the lion seems very well suited for the library. His big feet are quiet on the library floor. He makes a comfy backrest for the children at story hour. And he never roars in the library—at least not anymore. But when something terrible happens, the lion helps in the only way he knows how. Could there ever be a good reason to break the rules? Even in the library?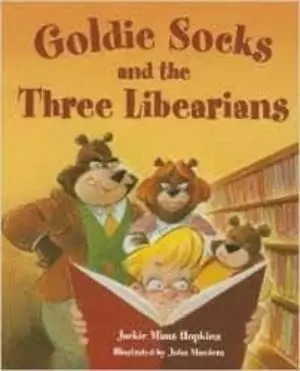 Goldie Socks and the Three Libearians by Jackie Mims Hopkins
This is a fabulous re-telling of the traditional Goldilocks and the Three Bears tale! In this version Mama & Papa Bear are librarians and Baby Bear is a librarian-in-training. Revision of the familiar story of Goldilocks and the three bears, in which Goldilocks is looking for the "just right" book and the "just right" place to read it.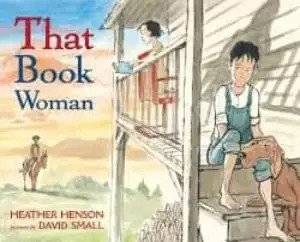 That Book Woman By: Heather Henson Illustrated by: David Small High in the Appalachian hills, a woman comes every two weeks on horseback to deliver books to Cal's family. Cal has no interest in reading, but he wonders what could possibly make her long treks in the snow and wind worthwhile? Young readers will discover a moving introduction to the story and courage of Kentucky's Pack Horse Librarians.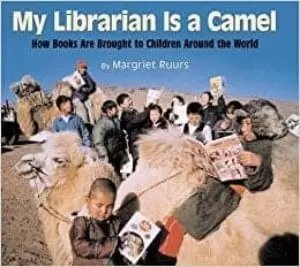 My Librarian Is a Camel: How Books Are Brought to Children Around the World By: Margriet Ruurs
Have you ever gotten your library book by way of a camel, elephant, solar-powered truck, or boat? This book offers a fascinating introduction to the many kinds of libraries around the world and includes numerous photos. Readers will come away with an appreciation of just how special libraries are to people no matter their background, as well as of their own neighborhood library branch!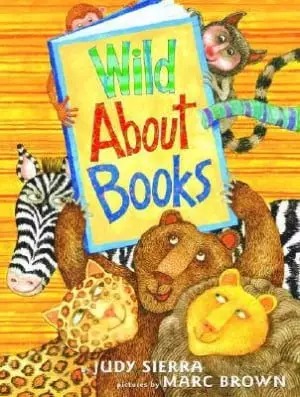 Wild About Books by Judy Sierra
is a book all about a librarian named Molly who decides to introduce the animals at the zoo to books. Once they all start reading, there is nothing that can stop them and they eventually build their own library branch. The text of this book is written in fantastic rhyme and the book titles that the animals are reading are funny!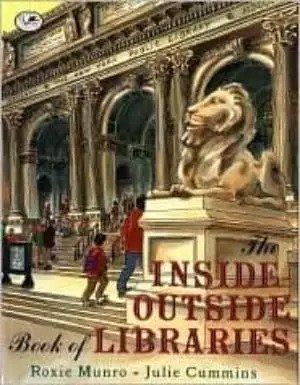 The Inside-outside Book of Libraries by Roxie Munro
This book takes readers all around the world to peek inside libraries. You nan learn about the Library of Congress, the library aboard an aircraft, carrier and more. Great illustrations by Julie Cummins take this nonfiction book from good to great.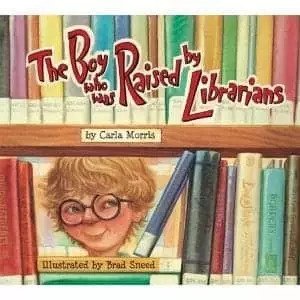 The Boy Who Was Raised by Librarians by Carla Morris
Every day after school Melvin goes to the library. Everything has its place in the library and Melvin likes it that way. And his favorite peopleMarge, Betty, and Leolaare always in their place, behind the reference desk. When a subject interests Melvin, his librarian friends help him find lots and lots of books on the subject. When he collects creepy bugs in a jar, they help him identify, classify and catalogue the insects. When he is cast as an Enormous Eggplant in the school play Betty reads aloud from Organic Gardening Magazine to help him find his motivation. As the years pass, Melvin can always find the answers to his questionsand a lot of funin the library. Then one day he goes off to college to learn new things and read new books. Will he leave the library and his friends behind forever? Readers will enjoy Brad Sneeds delightful illustrations that colorfully capture the fun-loving spirit of Carla Morriss story about the contagious enthusiasm of learning.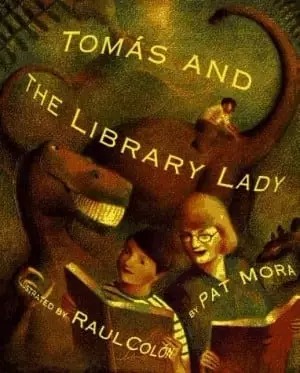 Tomas and the Library Lady by Pat Mora
This is a really touching book about the difference a library and caring librarian can make in the life of a child. Tomas's parents are migrant workers and in the summer they travel from Texas to Iowa to work the fields for the summer. While in Iowa Tomas discovers the local library and befriends the librarian who signs books out on her own card for him. He reads all summer, shares the books with his family and develops a love of reading because someone took the time to reach out.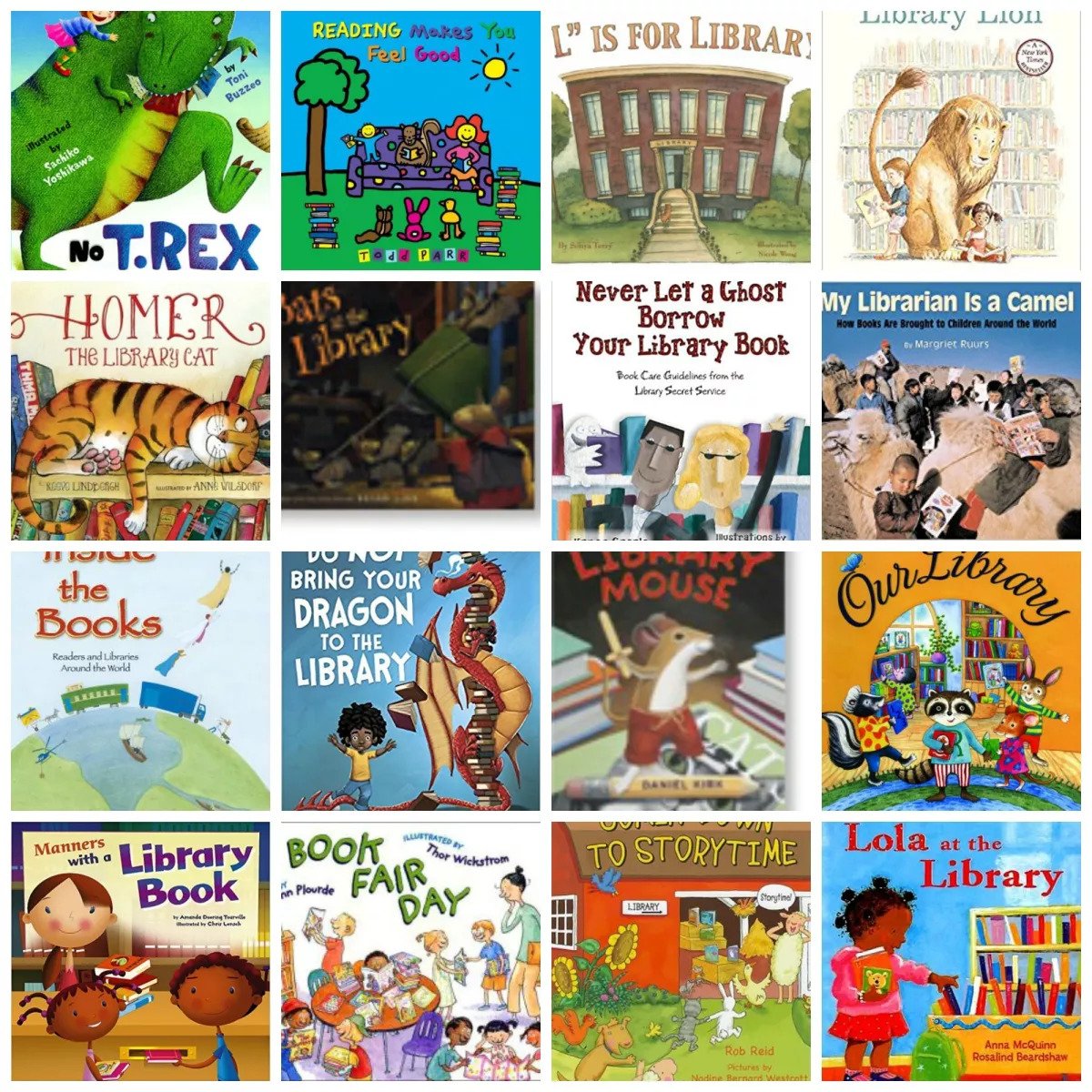 Here are some more books:
Read It, Don't Eat It! by Ian Schoenherr 
Our Library by Eve Bunting 
Reading Makes You Feel Good by Todd Parr 
Inside the Books: Readers and Libraries Around the World by Toni Buzzeo
I Will Not Read This Book by Cece Meng 
No T. Rex in the Library by Toni Buzzeo 
Library Mouse By: Daniel Kirk
Do Not Bring Your Dragon to the Library by Julie Gassman (Author), Andy Elkerton (Illustrator)
Manners with a Library Book (Way To Be!: Manners) by Amanda Doering Tourville  (Author), Chris Lensch (Illustrator)
Never Let a Ghost Borrow Your Library Book: Book Care Guidelines from the Library Secret Service by Karen Casale  (Author), Cecilia Rebora (Illustrator)
Read Anything Good Lately? by Susan Allen  (Author), Jane Lindaman (Author), Vicky Enright (Illustrator)
Bats at the Library By: Brian Lies
Read To Your Bunny  by Rosemary Wells
The Librarian from the Black Lagoon by Mike Thaler
"L" Is for Library by Sonya Terry 
It's Library Day by Janet Morgan Stoeke 
Comin' Down to Storytime by Rob Reid 
Book Fair Day by Lynn Plourde 
Calvin Can't Fly: The Story of a Bookworm Birdie by Jennifer Berne
Lola at the Library by Anna McQuinn
Dewey: There's a Cat in the Library! by Vicki Myron, Bret Witter, Steve James (Illustrator)
Stella Louella's Runaway Book By: Lisa Campbell Ernst
The Library Dragon by Carmen Agra Deedy, Michael P. White (Illustrator)
Otto the Book Bear by Katie Cleminson 
The Library by Sarah Stewart 
Down Cut Shin Creek: The Pack Horse Librarians of Kentucky 
I Took My Frog to the Library by Eric A. Kimmel
The Little Red Fish by Taeeun Yoo 
Miss Moore Thought Otherwise: How Anne Carroll Moore Created Libraries for Children by Jan Pinborough 
Miss Smith and the Haunted Library by Michael Garland 
The Fox in the Library by Lorenz Pauli 
No Pirates Allowed! Said Library Lou by Rhonda Gowler Greene 
Miss Dorothy and Her Bookmobile by Gloria Houston 
The Shelf Elf by Jackie Mims Hopkins 
Miss Brooks Loves Books! by Barbara Bottner 
Book! Book! Book! by Deborah Bruss 
It's A Book by Lane Smith
The Lonely Book by Kate Bernheimer 
Do you have a favorite book about reading that I have missed out? I'd love it if you could add the title and why you love it in the comments so this list can keep growing for all our readers.
Last modified on Monday, 28 December 2020 12:29

The Rabbit Hole Bookstore - Where children discover the magic of books! The Rabbit Hole Bookstore is a passionate initiative to bring the world of literature and books close to our children. We are an independent children's bookstore with children at the heart of everything we do. Created specifically to bond the child and the book and to allow children to encounter books in new and exciting ways, The Rabbit Hole brings with it specially curated children's books and other products that nurture creativity and a host of other skills and let the children explore the horizons of imagination and provide an opportunity to find their inner connection with the world of literature. Explore books and beyond at The Rabbit Hole!
Leave a comment
Make sure you enter all the required information, indicated by an asterisk (*). HTML code is not allowed.