Let's Say it with Kites- 22 Books for the Kite Lovers this Sankranti!
Festivals in India are celebrated with a lot of excitement and enthusiasm. There are several customs and rituals linked with these festivals which are not only pleasant and enjoyable but also beneficial for health. Makara Sankranti is one of these festivals, which is celebrated all over the India in various ways, a prominent one being flying kites. Scientifically, this day marks the beginning of warmer and longer days compared to the nights.
People fly kites on this day because by doing it unknowingly they receive the benefits of sun exposure. During winter, our body gets infected and suffers with cough and cold and the skin also gets dry during this season. Kite flying while a lot of fun for the young at heart, conveys a deeper message that God is the Sutradhara — holding the string of man. Letting your kite fly high, up to the heavens, is a sign for the gods to wake up as it is believed that they have slumbered for the past six months.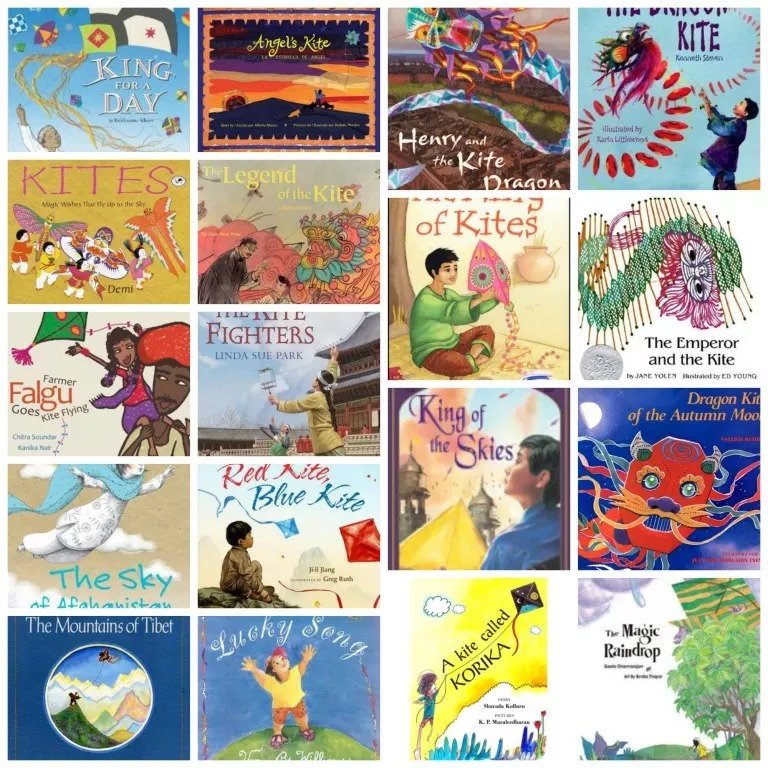 King for a day
Basant is here, with feasts and parties to celebrate the arrival of spring. But what Malik is looking forward to most is doing battle from his rooftop with Falcon, the special kite he has built for speed. Today is Malik s chance to be the best kite fighter, the king of Basant. In two fierce battles, Malik takes down the kites flown by the bully next door. Then Malik moves on, guiding Falcon into leaps, swirls, and dives, slashing strings and plucking kites from the sky. By the end of the day, Malik has a big pile of captured kites. He is the king! But then the bully reappears, trying to take a kite from a girl in the alley below. With a sudden act of kingly generosity, Malik finds the perfect way to help the girl. This lively, contemporary story introduces readers to a centuries-old festival and the traditional sport of kite fighting, and to a spirited, determined young boy who masters the sport while finding his own way to face and overcome life s challenges."
Kite Day: A Bear and Mole Story
On a windy spring day Bear and Mole decide to fly a kite. But when a storm rumbles in, the kite string breaks! The two friends tear after their kite and find it in a tree, protecting a nest of baby birds from the rain.
The Magic Raindrop
One day, a little drop of rain fell on my green and orange kite- This is how this colourful book begins its journey of magical raindrops and unbelievable kites. The story very subtly teaches children the contenment of letting go of their things.Followed by two-page afterword on How to Fly a Kite and Kite Festivals around the world.
A kite called Korika
A little boy discovers a wish-granting kite. He really wants a bicycle but then his bother becomes sick, putting he into a dilemma. What will he wish for?
Henry and the Kite Dragon
In this touching story based on true 1920's events, two rival groups of children representing two different cultures come face to face, and when they do, they find they share much more than just the same sky.
The story of kites – Amazing Chinese Inventions
"Traditional papercuts are perfectly suited to the kite images . . . With its folkloric tone, this stands on its own as a story about creativity."—Kirkus Reviews
The Kang brothers imagine making wings to fly and drive the birds from their rice fields! With paper, straw, and feathers, what else can they create?
The Emperor and the Kite
Largely ignored by her own family, Princess Djeow Seow spends her days playing with a kite made from paper and sticks. But when the Emperor is imprisoned in a high tower, only the Princess can save the day, flying her kite high up into the sky to rescue her father.?A familiar jewel polished to unaccustomed brilliance.? ? Booklist?It is rare to find a book where the beauty of the language and image are so finely meshed as in this tale of loyalty and love.? ?
The Kite Fighters
In Seoul, Korea, in 1473, Young-sup and his older brother Kee-sup are excited about the New Year kite competition. Young-sup is an expert at kite flying. He knows just what his kite wants him to do. Kee-sup has trouble handling his kite, but can build and design a kite fit for a king.
Each brother knows his own talents as they practice together for the New Year kite-fighting competition. But according to tradition, Kee-sup, the first-born son, must represent the family. Young-sup knows he must help his older brother and stay in second place. But that doesn't stop him from hoping for the chance to show his great skill as a kite fighter.
Lucky Song
Lucky listener! Lucky reader! Listen to this lucky song about Evie and her blue-sky, kite-flying day. But Evie's day wouldn't be nearly as special without a little help from her grandpa and grandma, and her mother and father and sister. The beloved picture-book world of Vera B. Williams comes vividly to life again with Evie in the warm embrace of her family. Young readers will want to hear her lucky song again and again and again.
The Dragon Kite
Chang's father makes him the most beautiful kite in the world. When the strong, blustery wind rattles his window, Chang races outdoors to try out the kite. But the wind pulls the kite right out of his hand and carries it far, far away, to the mouth of the enormous volcano. Chang is heartbroken. Will he ever see his beautiful dragon kite again?
An exciting story about a daring boy and an ancient Chinese dragon, with information about the importance of kites in Chinese culture.
King of the skies
Before dawn on the day of Basunt, the first day of spring, a boy pulls himself up to the roof, to launch is kite into the skies. He is eager to get his kite airborne. He has worked long and hard to make his the best kite ever. It's small, but built for speed, with two long streamers that look like legs flying over the rooftops.Through skill and daring he battles with the other kites -- big kites, little kites, fancy and plain kites -- and beats them all. For it is on this one day that he is better than everyone else ... on Basunt, he is king of the skies.
The mountains of Tibet
In a tiny village, high in the mountains of Tibet, lives a woodcutter. All his life he has longed to travel to faraway places, to see the world. But he grows old without ever leaving the mountian. When he dies, he is suddenly offered the chance to live another life, in any form he wants, anywhere in the galaxies. Carefully he decides... and finds himself in a place he never thought he would choose.
Red Kite, Blue Kite
When Tai Shan and his father, Baba, fly kites from their roof and look down at the crowded city streets below, they feel free, like the kites. Baba loves telling Tai Shan stories while the kites--one red, and one blue--rise, dip, and soar together. Then, a bad time comes. People wearing red armbands shut down the schools, smash store signs, and search houses. Baba is sent away, and Tai Shan goes to live with Granny Wang. Though father and son are far apart, they have a secret way of staying close. Every day they greet each other by flying their kites-one red, and one blue-until Baba can be free again, like the kites.
Inspired by the dark time of the Cultural Revolution in China, this is a soaring tale of hope that will resonate with anyone who has ever had to love from a distance.
A Kite's Flight
When his grandfather is sick, Tad-Tin goes out to fly his special dragon kite, so that it can take all their troubles away with it.
The Sky of Afghanistan
Beautifully illustrated and undeniably moving, this is the story of a little Afghan girl's dreams of peace. As her country is wracked by war, a girl's imagination drifts toward the idea of peace for her people and for her country. Her powerful dreams soon take wing and fill the homes and hearts of those around her, uniting a people in their common desire for peace.
Farmer Falgu goes Kite Flying
Farmer Falgu stories are set in Rajasthan and the third book in the series Farmer Falgu Goes Kite Flying, is set in the kite festival of Jaipur during Sankaranthi, the harvest festival in January. Launching on the 20th January 2017!
The King of Kites
When Anil hears about a big wedding in the village, he decides to make twelve kites to fly in honour of the bride. But Anil's mother is making clothes for the special day and she needs Anil's help, and all of his ribbons and sequins too. How can there be a wedding without kites?
Angel's Kite
No one knows what happened to the bell in the church tower. Did the priest sell the bell to a foreign collector? Did revolutionaries melt it down and turn the metal into cannons? Or was it just magic? Whatever the reason, the town hasn't been the same since it disappeared. To heal the pain of this loss, Angel, the young kite maker, creates a beautiful kite showing the whole town — including the missing church bell. After an exciting chase and a lonely night on a cold mountaintop with his three loyal dogs, Angel succeeds in bringing back the bell to his beloved town.
Kites: Magic Wishes That Fly Up to the Sky
In brilliant colors and on spacious double-page spreads, Demi depicts the origin of the Chinese holiday Ch'ing Yang or The Double Ninth Festival, a festival of kites that takes place on September 9, the ninth day of the ninth month. The kites are what's important here, and Demi fills the pages with airily desirable kites in the shapes of birds, insects, reptiles . . . and symbols captioned with their attributes. . . . This is a celebratory sort of book that is going to inspire some serious kite-making/kite-flying activities.
The Kite and Caitlin
Kites are not cuddly and you can't play football with them, but when the neglected kite comes to belong to Caitlin, it is appreciated for the very first time. Seriously ill, confined to bed, Caitlin dreams of the day she will get better and fly with the kite high over the mountains of the world. Caitlin doesn't get better, but her final journey with the kite leads them both to a place without pain and suffering where they can be free. This exceptional book allows children to approach the concept of death at the level for which each individual is ready.
Dragon Kite of the Autumn Moon
When his grandfather is sick, Tad-Tin goes out to fly his special dragon kite, so that it can take all their troubles away with it.
The Legend of the Kite: A Story of China - a Make Friends Around the World Storybook 
While celebrating the Kite Festival, a grandfather tells his grandson the legend behind the festival and kite flying. The illustrations give a glimpse of ancient China, and at the back of the book there is information on the history of kites.
---
We are headed out this weekend for a few hours to fly kites – a spur of the moment idea to enjoy some outdoor time on a windy day. Have you ever gone kite flying with the kids? It's such a great family activity for those windy, spring afternoons Take your pick of some of the wonderful Kite Flying Events in Bangalore and Hyderabad this weekend.
For more books like these visit our online book store here
Last modified on Thursday, 09 July 2020 14:20

The Rabbit Hole Bookstore - Where children discover the magic of books! The Rabbit Hole Bookstore is a passionate initiative to bring the world of literature and books close to our children. We are an independent children's bookstore with children at the heart of everything we do. Created specifically to bond the child and the book and to allow children to encounter books in new and exciting ways, The Rabbit Hole brings with it specially curated children's books and other products that nurture creativity and a host of other skills and let the children explore the horizons of imagination and provide an opportunity to find their inner connection with the world of literature. Explore books and beyond at The Rabbit Hole!
Leave a comment
Make sure you enter all the required information, indicated by an asterisk (*). HTML code is not allowed.