Authorspeak - Arthi Anand Navaneeth ( Interview with author Arthi Anand Navaneeth )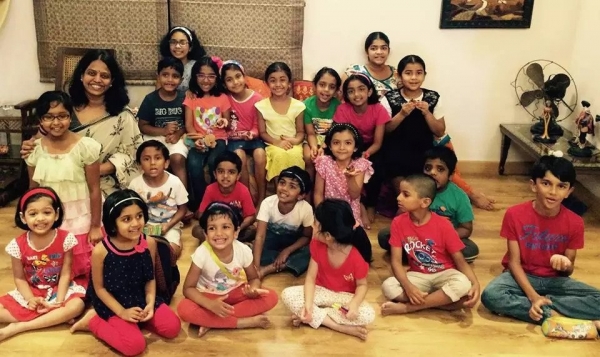 Arthi Anand Navaneeth is a mother of two, wife to one, a professional with a fragrance MNC and an author. Have you seen this? and Ranganna are her picture books published by Tulika. She also is the creator of Mister Muthu for Chandamama, a children's book reviewer at Saffron Tree and a weekend storyteller.
She has conducted various events in bookstores, NGOs, schools, libraries and other events and establishments such as Kitschdii, Timri, Hamleys, Hundred Hands, Sunday Soul Santhe, Bookalore, Neralu and Cubs of Cubbon to name a few. She also volunteers through Samilksha for the Kidwai Cancer Kids unit and Anand Vidyalaya for Ejjipura slum kids.
---
The Rabbit Hole in conversation with Arthi Anand Navaneeth
Tell us a little about yourself and your background?
I am a mother of two, wife to one, working the corporate life with a fragrance MNC and living it up with travel,home decor,books and stories.
How did Arts Tales and writing come up?
All of us are storytellers and as a parent, that role acquires prominence. I was a mommy blogger and one of my stories got spotted and Mister Muthu went on to become a monthly serial story with Chandamama. Then Tulika published my first book Have you seen this? During the launch events, I realised I loved kids and storytelling. Ranganna followed soon and'Arts Tales with Arthi Anand' took off and there was no looking back.
Your first book was "Have you seen this?" What inspired you to start writing and how did the first book happen?
HYST was a conversation between my then six year old daughter and me. We were coming up with a topsy turvy world and had great fun teasing our brains to outwit each other. Our conversation, once edited by the Tulika team and quirkily illustrated by Roomani , turned into HYST.
What inspired Ranganna? How did you come up with the character and the the idea of an elephant wearing nail polish?
On our trip to Kumbakonam, my little one, then three, was petrified by the temple elephants. I am an elephant lover and wanted her to see them as affectionate and approachable. So I wove in the mostly forbidden but much coveted nail polish along with the universal love of rainbows and colours-into this cute elephant Ranganna. Kavita Singh Kale made him come alive with her art.
What do you feel about the reading habit in children today? Do you feel that technology and after school classes affect our children's reading - what do you say about it?
I think children who want to read always do. They may now read it on non traditional formats such as kindle or the computer. Technology can be viewed as an enabler not an enemy. Classes encourage reading too- my child had research projects in art and in music. Depends also on the access to books which is better than it ever was- with well curated book stores and libraries such as yours.
I am sure, being an author and a story teller, you emphasize on reading. What kind of  books do you read to your kids? What role does reading play in your life and home? What kind of books do you suggest children read and why? 
Saffron Tree and Playing by the book are two great book resources for children. Parents should choose a genre that their child likes- dinosaurs/ wildlife/ friendship/ vehicles…..My parents, husband and older daughter are voracious readers. I seem to make time only for children's books since Arts Tales was born! I keep reading to lot to my younger one - anything that she fancies or that I think she will like. She enjoys narrated stories more than being read to.
What thought/message would you want to share with others on the effect of stories and reading on children.
Stories are memorable. Concepts come alive and values can be subtly imparted. Beyond the learning possibilities, stories are fun and for everyone and can be shared anytime and anywhere. The most sustainable form of entertainment don't you think?
Last modified on Thursday, 09 July 2020 14:19

The Rabbit Hole Bookstore - Where children discover the magic of books! The Rabbit Hole Bookstore is a passionate initiative to bring the world of literature and books close to our children. We are an independent children's bookstore with children at the heart of everything we do. Created specifically to bond the child and the book and to allow children to encounter books in new and exciting ways, The Rabbit Hole brings with it specially curated children's books and other products that nurture creativity and a host of other skills and let the children explore the horizons of imagination and provide an opportunity to find their inner connection with the world of literature. Explore books and beyond at The Rabbit Hole!
Leave a comment
Make sure you enter all the required information, indicated by an asterisk (*). HTML code is not allowed.