The longest day of the year – Summer Solstice! (Make the most of the longest day of the year with these books)
The summer solstice usually occurs on the 21st or 22nd of June in the Northern Hemisphere. Those in the Southern Hemisphere celebrate the winter solstice during those days. The summer solstice is the longest day and the shortest night of the year. This day is a great science lesson for kids and a great opportunity to learn about the tilt of the sun. Make the most of the longest day of the year by celebrating the summer solstice with these books which you can read with your kids about Summer Solstice
Under Alaska's Midnight Sun by Deb Vanasse
In the far northern parts of the world, near and above the Arctic Circle, summer days are very long. In Barrow, Alaska, for example, the sun rises in May and sets 83 days later, in early August. During this time, the sun shines all through the night. People call it the midnight sun. When the midnight sun is shining, people and animals stay active even at night. This sweet poetic narrative, illustrated by award-winner Jeremiah Trammell, showcases the many pleasures of this unique time as ​a little girl dances, fishes, plays games, watches moose and fox, and communes with family and nature.
The Midsummer Mouse: Midsummer Tales of Tiptoes Lightly and the Summer Queen by Reg Down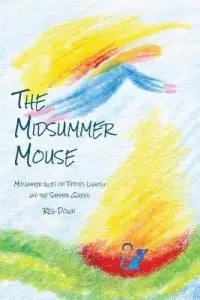 The Midsummer Mouse is a summer tale, full of midsummer mirth, misadventure, mystery and delight. It will bring sparkles to children's eyes, and laughter to adults, too.
The Longest Day: Celebrating the Summer Solstice (Seasons) by Wendy Pfeffer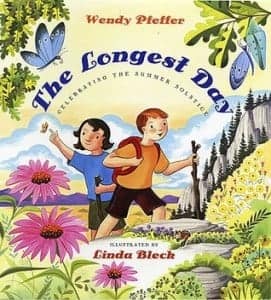 In this book about seasons, Wendy Pfeffer turns her attention to summer, when butterflies emerge from silky cocoons and daylight hours stretch longer and longer. With lyrical prose and vibrant illustrations, The Longest Day takes us on a journey through the history and science behind the summer solstice, with a focus on summer celebrations from various cultures around the world. Teachers and students alike will treasure the varied and accessible knowledge, and activities in the back let everyone in on the festivities.
The Summer Solstice by Ellen Jackson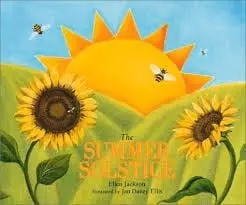 From ancient times to the present, people have found many ways to express their thankfulness for the sun's gift of warmth and light. THE SUMMER SOLSTICE depicts the mysterious rites of the Egyptians, the tales of fairies and selkies, the modern parades and baseball games–all part of the fun and folklore of this happy time.
THE SUNCHILDREN: A Seasonal Thanksgiving for families of the Earth byAncient Amber
A story for the WHOLE family. Age: 5+. In the light of the forest live the sun children. These special children anticipate the change of each season. Join them as they celebrate the beginning of Summer. Watch as each of the sun children show Thanksgiving in their own creative way! This story is a non-traditional Summer Solstice story. It encourages creativity, self-exploration, self-expression and respect for others while celebrating a moment in time!
Last modified on Monday, 16 April 2018 16:22
Leave a comment
Make sure you enter all the required information, indicated by an asterisk (*). HTML code is not allowed.