Meet Entrepreneur Jyotsna Dilip Who Runs A Travelling Bookstore For Children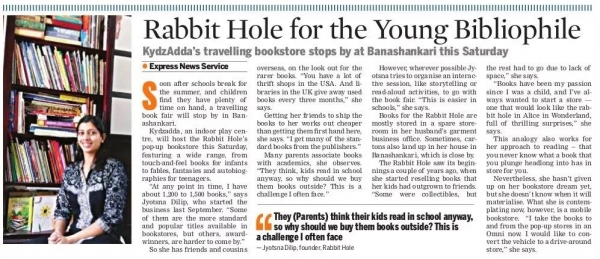 Jyotsna Dilip, another passionate woman entrepreneur, shares her journey in setting up a travelling bookstore for children called, 'The Rabbit Hole'.
Does the name, 'The Rabbit Hole' sound unusual for a bookstore? I thought so initially too till I got to know the reason behind it. Well, it goes like this – "A book is like the Rabbit Hole that Alice from Alice in Wonderland went down to – if you see one open, you will end up disappearing inside!" Jyotsna believes that spending time with books will bind you in that magical reflex.
Before 'The Rabbit Hole' happened..
Jyotsna has been in many roles before starting her own bookstore. She started her career in IT industry and has over 10 years of experience, before she decided to become a full time mom for her two kids. During this time she added to her qualifications by completing her MBA while helping her husband in the operations/administration departments of his business. She also completed a course on facilitation and child development and started freelancing and writing educational content for children. Jyotsna also runs a reading program for children called, Seed a Read. Amidst all this, 'The Rabbit Hole' happened!
Last modified on Monday, 30 April 2018 14:58
Leave a comment
Make sure you enter all the required information, indicated by an asterisk (*). HTML code is not allowed.