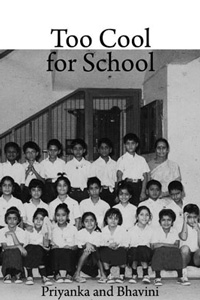 Too Cool for School is a collection of short stories about friendship, pranks, dares, and classroom antics. These are vignettes of student life from schools around India. The authors, who are all a part of the Book Lovers' Program for Schools—a travelling storytelling company— have either witnessed these tales first-hand, drawn on their own memories, or arrived at a mix of the two.

Storytellers from the BLPS team have visited schools across south India. The stories reflect the flavours of India in their language and setting.

In "All Because Of Superman", Shreya hopes that someone will look beyond the way she is dressed and see her as a friend. "Nithya Ma'am is Coming" shows a classroom argument that threatens to escalate into a fight just as Nithya Ma'am, the terrifying Maths teacher, is about to make her way to the class. "The Flying Monkey" is a humorous take on a modern-day 'Surpanakha' while "The Outstanders" sees two girls forge a friendship when they are forced to stand outside their classes as punishment. In "A Game of Cat and Mouse", Mrs. Bhagirathy's small class puts up a play that will unintentionally make history.

The stories are laced with tenderness, some wisdom, a touch of madness, and laugh-out-loud humour. Along with giving you a window into school life in India, Too Cool for School is bound to entertain, bring a smile to your face, and lift your spirits.
Book Condition
Theme
Authors
Priyanka Sivaramakrishnan
Bhavini
Language
For Age Groups
Middle Readers (Ages 7-12)
For Developing
Binding Option
Publisher
| | |
| --- | --- |
| Dimension (L x W x H) | 0 x 0 x 0 |
| Weight | 0 |