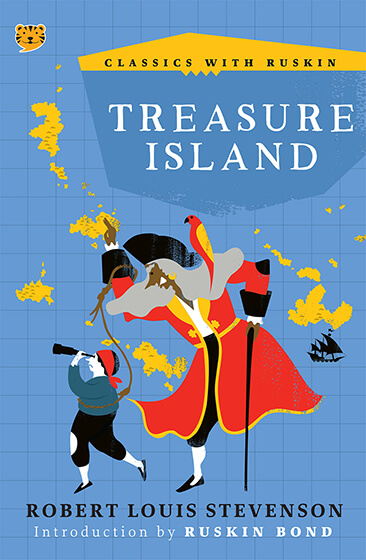 Classics with Ruskin - Treasure Island by Robert Louis Stevenson



Treasure Island by Robert Louis Stevenson

A thrilling tale of hidden treasure, pirates and treachery.

When Billy Bones, an old sailor, dies at Admiral Benbow Inn, young Jim Hawkins gets drawn into the most exciting adventure of his life. Among the dead man's belongings, Jim discovers a map that leads to a hidden treasure on a remote island, and shows it to Dr Livesey and Squire Trelawney. They, in turn, recruit a crew of seasoned seamen, and embark on a voyage to the island. They set sail on the Hispaniola where Jim learns of a mutiny brewing on the ship, masterminded by Long John Silver, the ship's deceitful one-legged cook. As events hurtle towards electrifying swordfights and shocking murders, Jim learns about friendship, bravery and loyalty.

A timeless adventure classic, Treasure Island has inspired generations of readers and writers alike. This new edition, introduced by Ruskin Bond, will enthral readers all over again.
FOR AGES
THEME
Adventure & Action
Pirates
SERIES
Classics with Ruskin Bond
TYPE
READING LEVEL
Middle Readers (Ages 7-12)
FORMAT
BRAND
| | |
| --- | --- |
| Dimension (L x W x H) | 0 x 0 x 0 |
| Weight | 0 |
You may also be interested in these products