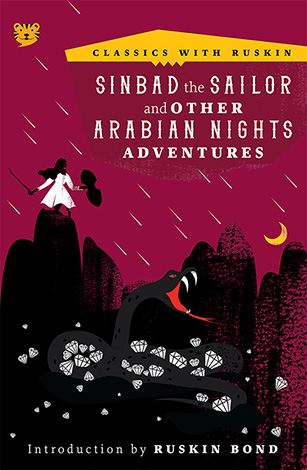 Classics with Ruskin - Sinbad the Sailor and other Arabian Nights Adventures



Sinbad the Sailor and other Arabian Nights Adventures

The thrilling adventures of Sinbad the sailor, Ali Baba and the forty thieves, and Princess Periezade—from the unforgettable 1001 Arabian Nights

Princess Scheherazade's tales of the Arabian Nights, composed over ten centuries ago, have captivated the imagination of generations of readers. These unforgettable tales of adventure, magic and fantasy come alive in this collection. In 'Sinbad the Sailor', the prosperous sailor narrates his seven incredible ship journeys. In each of these voyages he ends up shipwrecked and encounters gigantic snakes and birds, cannibals, mythical creatures and more. But he escapes each time using his wit, amassing great wealth in the process. In 'Ali Baba and the Forty Thieves', Ali Baba and his family discover a secret cave filled with glittering gems and gold. But who will rescue them when the thieves trap them in the cave? And, in a lesser-known gem of a tale, the brave and intelligent Princess Periezade goes in search of the singing tree, the talking bird and the golden fountain, all of which lead her to an even greater secret.

Dive into this collection, specially selected and introduced by Ruskin Bond, to enter a world full of wonder, enchantment and daredevilry.
THEME
SERIES
Classics with Ruskin Bond
TYPE
Middle Grade Novel
Classics
FOR AGES
READING LEVEL
Middle Readers (Ages 7-12)
FORMAT
BRAND
| | |
| --- | --- |
| Dimension (L x W x H) | 0 x 0 x 0 |
| Weight | 0 |
You may also be interested in these products