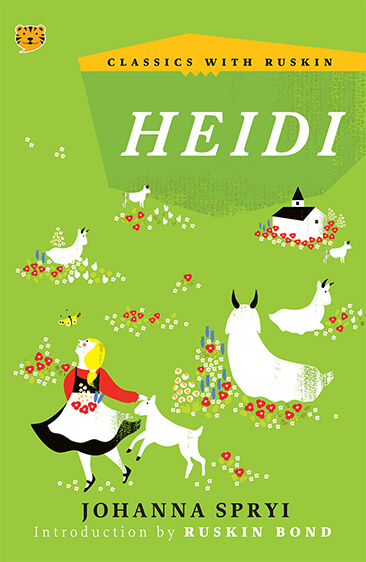 Classics with Ruskin - Heidi by Johanna Spyri



Heidi by Johanna Spyri

Heidi is an orphan and comes to live with her grandfather when she is five years old. Grandfather's house is among the tall mountains, surrounded by beautiful meadows. Soon, Heidi begins to love her life here with the goats she looks after, her new friend Peter, his blind grandmother who dotes on Heidi and even her stern grandfather. But one day, she is taken far away from all of this to Frankfurt, a busy city where she can neither see the sky nor walk about as she pleases. As Heidi learns to live a new life, she keeps yearning for her old one, till one day, someone is convinced there is a ghost walking about at night in the house. Who is this ghost? What is the ghost's connection with Heidi? Will it help Heidi to go back to the village and to her grandfather?

Heidi has been a favourite of adults and children all over the world since it was first published. In this new edition introduced by Ruskin Bond, be ready to fall under its spell once again.
THEME
SERIES
Classics with Ruskin Bond
TYPE
Middle Grade Novel
Classics
FOR AGES
READING LEVEL
Middle Readers (Ages 7-12)
FORMAT
BRAND
| | |
| --- | --- |
| Dimension (L x W x H) | 0 x 0 x 0 |
| Weight | 0 |