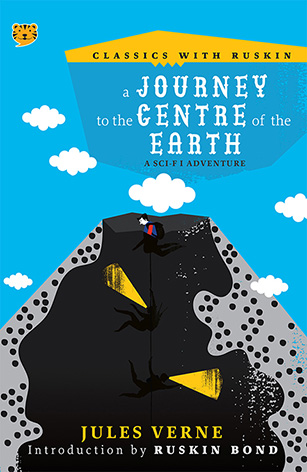 Classics with Ruskin - A Journey to the Centre of the Earth



A Journey to the Centre of the Earth

Jules Verne

A thrilling subterranean adventure filled with startling and strange discoveries

When Professor Otto Liedenbrock comes across a strange code, he is convinced that it points the way to reaching the centre of the earth. With the help of his nephew Axel, he deciphers the code and with Axel at his side, sets off for Iceland. There, they venture down the crater of a volcano. Travelling further and further, deeper into the earth using a series of interconnected passageways, they have incredible adventures and close encounters with death. The discoveries they make inside the earth are as astounding as they are unbelievable. From the existence of an underground sea and echoing chambers, to prehistoric animals and much more, the explorers go from one exciting episode to another. But will they be able to find their way back to the surface of the earth finally?

As enthralling and electrifying today as it was when it was first published, A Journey to the Centre of the Earth remains an enduring classic that continues to inspire voyagers and readers alike. Let it come alive once more in this beautiful edition, with an introduction by Ruskin Bond.
SERIES
Classics with Ruskin Bond
TYPE
Middle Grade Novel
Classics
FOR AGES
THEME
READING LEVEL
Middle Readers (Ages 7-12)
FORMAT
BRAND
| | |
| --- | --- |
| Dimension (L x W x H) | 0 x 0 x 0 |
| Weight | 0 |
You may also be interested in these products