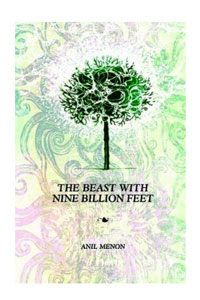 The Beast with Nine Billion Feet


"It is 2040AD. The place is Pune, India. The future is here and now. Liquid computers. Flawless Skin. Emotional cars. Illusion pods. Synthetic life. For thirteen-yearold Tara and her elder brother Aditya, it's a world full of tough questions and infinite possibilities. Why are Tara's new friends, Francis and Ria, so freaked by the night sky? Is their strange and beautiful mother, Mandira, friend or foe? Where is their father? Is he a terrorist or a genius? And what, exactly, is the beast with nine billion feet?
As Tara and Aditya soon find out, there are no simple answers. They find themselves on very different tracks, caught up in a deadly game - a struggle for power and control, a fight for the genetic code to life itself. In the 'here and how' of Anil Menon's brilliant and disturbing debut novel, the future itself is at stake. ""Spread the news. The Beast is Alive!!"""
Authors
Language
For Age Groups
Middle Readers (Ages 7-12)
Binding Option
Publisher
| | |
| --- | --- |
| Dimension (L x W x H) | 0 x 0 x 0 |
| Weight | 0 |