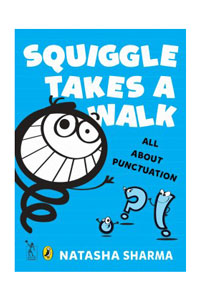 Squiggle is confused. She doesn't know quite what she is! So she sets off through the pages of a notebook in search of answers. Is she a comma or colon? A question mark? Surely not an exclamation! Splash, run, bump, trip and swing with her until she finds her own kind.
Natasha Sharma's delightful book introduces young readers to the correct way to use punctuation in this deliciously comic tale. The book also includes a section with pointers on punctuation, interesting facts from history, and mayhem brought about by incorrect punctuation.
Jump into this adventure with Squiggle and you'll never lose that comma again!
Theme
Authors
Language
For Age Groups
Middle Readers (Ages 7-12)
Binding Option
Publisher
| | |
| --- | --- |
| Dimension (L x W x H) | 0 x 0 x 0 |
| Weight | 0 |