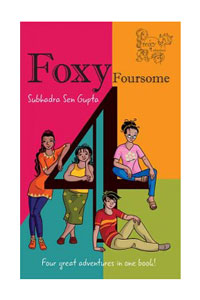 "In the third of the Foxy Four adventures, Charu, Padma, Jahan and Mandy are at it again: solving mysteries, breaking the rules, dodging eagle-eyed gatekeepers, careening around in Aunt Razia's car, and driving their school principal crazy!
Travel with our four feisty friends to a crumbling old haveli in Bhopal; to the Kalakshetra dance school in Chennai; pandal-hopping at Durga Puja; and crime-busting in the gullies of Old Delhi.
Each story is narrated by one of the girls. Mandy, the fashionista babe, reveals a surprising brain beneath that perfect hair. Padma may be a computer geek, but she knows a thing or two about classical dance. Jahan seems like the cool-headed type, but even she gets the shivers in a haunted haveli. And then there's Charu, who everyone knows, is just destined to be a writer..."
Theme
Authors
Language
For Age Groups
Advanced Readers (Ages 13+)
Binding Option
Publisher
| | |
| --- | --- |
| Dimension (L x W x H) | 0 x 0 x 0 |
| Weight | 0 |