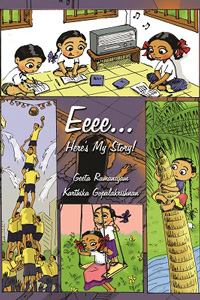 Geeta Ramanujam grew up in the 1960s: a different time than today. India was still a very young country. It was a serious place, dealing with serious issues. Growing up in Bombay, such thoughts never crossed Geeta's mind. She was concerned only with play. And friends. And fun. And mischief.

Geeta was fed a stead diet of storyes as a child. She became a fantastic storyteller. Through her organisation Kathalaya, she has told stories to hundreds of thousands of children and has trained tens of thousands of adults to be better storytellers.

This is her story.

Designed as one part chapter book and one part comic book, Eeee... Here's My Story is perfect for children who love simple stories (like those of R K Narayan). It is also an absolutely perfect book for adults to talk to their children about times gone by. Geeta's life in this story is full of poverty, yet she never feels it and never lets the reader feel it. Instead you see little Geeta navigating life with joy. The book is full of colour and is a perfect book to just look at and wonder how the times have changed, and yet they have remained the same.
Authors
Geeta Ramanujam
Karthika Gopalakrishnan
Language
Book Condition
Binding Option
Publisher
| | |
| --- | --- |
| Dimension (L x W x H) | 0 x 0 x 0 |
| Weight | 0 |