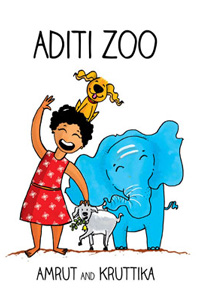 Meet Aditi. She is six years old. At her age, most girls are short and sweet. Aditi is more than that. She is independent, self-confident, and brave. She is a go-getter.

Aditi's best friend Anjali has recently gotten a younger brother. Anjali can't stop talking about him. Aditi is jealous. She wants a younger sibling too!

Aditi asks her parents for a younger brother but Aditi's father sets a challenge for her to "earn it". Will she be able to rise to the occasion?

Storyteller Amrut and illustrator Kruttika narrate the amazing story of how Aditi becomes Aditi Zoo.

This story was narrated to 1000s of children in schools before being published as a book.
Theme
Authors
Language
Book Condition
Illustrator
For Age Groups
Middle Readers (Ages 7-12)
For Developing
Binding Option
Publisher
| | |
| --- | --- |
| Dimension (L x W x H) | 0 x 0 x 0 |
| Weight | 0 |