Holiday Activity – Interview a Grandparent and Write a Biography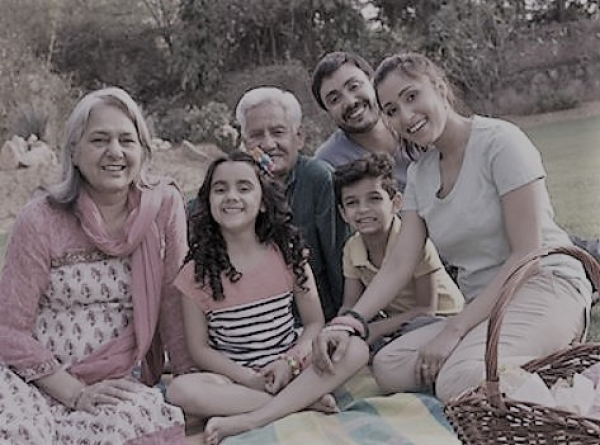 Grandparents love grandchildren unconditionally. They are the children they can enjoy and return at the end of a good visit. They are the children they did not have to raise and worry about 24/7.  Grandchildren are their legacy, continuing the family story long after they have gone. Grandparents are full of memories of their childhood and children love listening to their stories. Why not put this to good use? Encourage your children to talk to their grandparents and write out their biography!  Get your child to record and transcribe an interview with a grandparent or much-loved uncle/aunt about their childhood. Then "publish" it (along with pictures) and distribute it to family and friends.
This is ideal for children 10+ years, but younger children can make a video of the interview, instead of writing a biography.
Interview Questions
Write down the interview questions you want to ask your grandparents. Cover their childhood, their wedding and raising your parents, etc. Then create some questions that are relevant for today: What are their retirement plans? What career advice would they give? What advice would they give a young person today?
Here are a few questions to get them started on an interview with them:
When and where were you born? Did you have a nickname?
When and where were your parents and brothers and sisters born?
What are the names of your parents and brothers and sisters?
What kinds of things did your family do together when you were young?
Who were some of your friends? What did you do with your friends?
What schools did you attend? What were your favorite subjects? Who were your favorite teachers?
How did you meet Grandfather / Grandmother?
What was parenting your children like?
Interview Grandparents
Interview your grandparents and record the interview. You can choose to only record the audio or make a video.
Organize the information
Listen to the interview several times. Decide what you are going to include and how you are going to organize the information. Make a basic outline. Include interesting comments they made and the stories they told. Use their information well to make their biography a good read.
Write the story
Start writing the story, following your outline. Include an introduction, a well-developed body (the middle part) and a brief conclusion. You could also include a family tree, family recipes, traditions, etc. to make the book more interesting.
Finalize
Finalize the draft on the computer. Here are many free templates to choose from. Insert pictures of grandparents and any other family pictures you have. Tada!!! You are done. Get this book published (or printed and bound). These will make great gifts and keepsakes for the entire family.
Last modified on Friday, 17 January 2020 18:01

The Rabbit Hole Bookstore - Where children discover the magic of books! The Rabbit Hole Bookstore is a passionate initiative to bring the world of literature and books close to our children. We are an independent children's bookstore with children at the heart of everything we do. Created specifically to bond the child and the book and to allow children to encounter books in new and exciting ways, The Rabbit Hole brings with it specially curated children's books and other products that nurture creativity and a host of other skills and let the children explore the horizons of imagination and provide an opportunity to find their inner connection with the world of literature. Explore books and beyond at The Rabbit Hole!
Leave a comment
Make sure you enter all the required information, indicated by an asterisk (*). HTML code is not allowed.