Fun Facts for New Year's: Wear Red Underwear and Eat Black-Eyed Peas!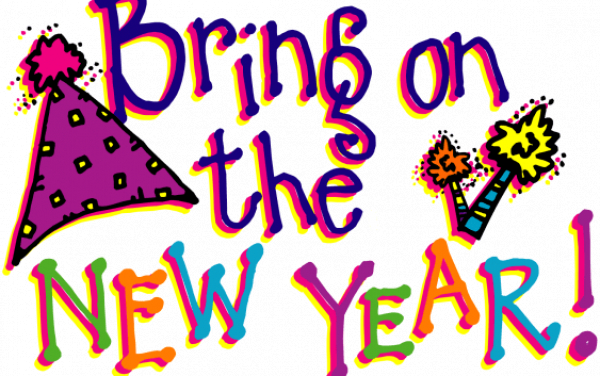 New Year's Eve is one of the favorite celebration days for many people. Parties aside, the impending New Year typically brings hope for a more prosperous and happy 365 days.
Check out these fun facts and trivia associated with the celebration.
The first New Year was celebrated 4,000 years by the ancient Babylonians.
The earliest known New Year celebrations were in Mesopotamia and date back to 2000 B.C.
In ancient Rome the new year began on March 1.
January is named after Janus, the god with two faces, one looking forward and one looking backward. He is the god of beginnings, transitions, gates, doors, passages, and endings.
Ancient Persians gave New Year's gifts of eggs, which symbolized productiveness.
The first recorded New Year's celebration dates back 4,000 years to Babylon when the first moon after the spring equinox marked a new year. In 46 B.C., Julius Caesar created a calendar with Jan. 1 as the first day of the year, partly to honor Janus, the month's namesake.
It's tradition to ring in New Year's with family and friends because the first people you see will either give you good luck or bad luck. So make sure to keep friends close and foes very far away
The song was traditionally sung on New Year's, "Auld Lang Syne," which means "times gone by".
The top three places to celebrate New Year's Eve are Las Vegas, Disney World and of course, New York City.  Internationally, one of the biggest celebrations is in Sydney, Australia. More than 80,000 fireworks are set off from Sydney Harbour Bridge.
Black-eyed peas, ham, and cabbage are considered good luck if you eat them on New Year's Eve or Day because it is believed they will bring you money. But lobsters and chicken are considered bad luck because lobsters can move backward and chickens can scratch in reverse, so it is thought these foods could bring a reversal of fortune.
 In Italy, people wear red underwear on New Year's Day to bring good luck all year long. The tradition dates back to medieval times.
The top 10 resolutions are usually to lose weight, eat more healthily, exercise more, stop smoking, stick to a budget, save money, get more organized, be more patient, find a better job and to just be a better person overall.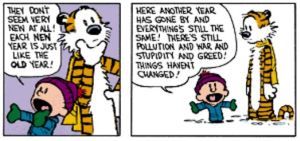 Time Square New Year's Eve Ball was first dropped in 1907 after there was a fireworks ban. The original ball weighed 700 pounds and featured 100 25-watt bulbs. Much different to the ball we know today!
2,000 pounds (907kg) of confetti is dropped on the crowd in Times Square at midnight.
The tradition to kiss at midnight isn't a recent invention. According to old English and German folklore, the first person you come across in the new year could set the tone for the next 12 months.
To ensure a year of good luck, firecrackers and noisemakers became a tradition in order to scare away any remaining evil spirits and to ensure a brand new start.
In Colombia, Cuba and Puerto Rico, some families stuff a large doll, which is called Mr. Old Year, with memories from the past year. They also dress him in clothes from the outgoing year. At midnight, he is set ablaze, thus burning away the bad memories.
Bring on the new year!!!
Sources: 
http://www.ibtimes.com/new-years-eve-facts-trivia-fun-things-know-about-holiday-1523662
http://edition.cnn.com/2013/09/12/world/new-years-fast-facts/
http://www.history.com/topics/holidays/new-years/interactives/new-years-by-the-numbers
Last modified on Wednesday, 22 January 2020 12:35

The Rabbit Hole Bookstore - Where children discover the magic of books! The Rabbit Hole Bookstore is a passionate initiative to bring the world of literature and books close to our children. We are an independent children's bookstore with children at the heart of everything we do. Created specifically to bond the child and the book and to allow children to encounter books in new and exciting ways, The Rabbit Hole brings with it specially curated children's books and other products that nurture creativity and a host of other skills and let the children explore the horizons of imagination and provide an opportunity to find their inner connection with the world of literature. Explore books and beyond at The Rabbit Hole!
Leave a comment
Make sure you enter all the required information, indicated by an asterisk (*). HTML code is not allowed.