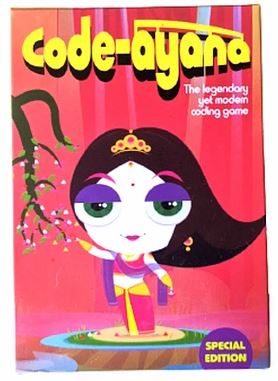 Code-ayana| Ramayan based coding Game



Learn & Play: This is the best Educational game that helps your kid to learn coding concepts like by building algorithms and debugging errors while helping Sita find the route to Rama. This is a perfect STEM game based on the epic of Ramayana for an epic time with family & friends without involving any screens.
Reduces screen time significantly: This STEM game is the best way to engage the age group of 5+ yrs old boys/girls to adults and keep them away from all screens. Used as teaching tools by teachers to help their students understand key math concepts.
More play, More practice: The hugely entertaining value of this game ensures that kids get more practice than in classrooms or worksheets, because of repeated play.
Skill Development: Math-o-Rama is an excellent epic based math game that cultivates Logical reasoning, Analytical thinking, Visual discrimination. It helps them observe the multiple ways of making numbers in their natural environment. This makes children love math as a subject instead of dreading it. The multiplayer mode of this game ensures that kids not only enjoy playtime but also bond with their friends and family while playing.
Perfect Gift = Happy Kid: This game is the perfect return gift on your children's birthday for their best buddies.
The box includes international quality learning based card game with 36 forest cards, 7 special cards and 18 arrow cards (directional cards). We have also added some extra empty cards to enable your little ones' creative juice flow and doodle on. All the games come with easy-to-understand instructions.