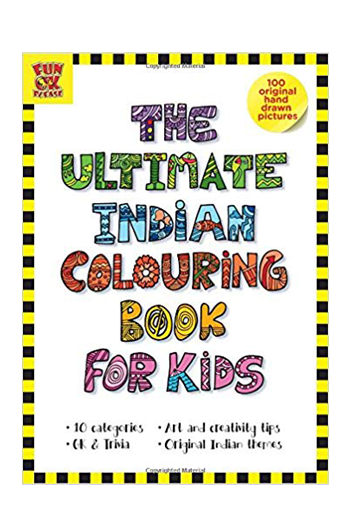 The Ultimate Indian Colouring Book For Kids


"Did you know that
You can paint with coffee?
You can sprinkle salt on paper while painting with water colours for a dramatic effect?
Gond art from Madhya Pradesh resembles aboriginal art from Australia?
At the Magnetic Hill in Leh, your car will appear to defy gravity and move upwards instead of downwards?

Discover our colourful India with hours of colouring fun, amazing art techniques and cool trivia and general knowledge in this unique colouring book for children. Designed by an award winning illustrator, this colouring book features 100 hand-drawn original artworks across 10 categories, graded from simple to challenging.

The 10 Categories include Animals and Birds, On the Go - Vehicles of India, Celebrations, 'Fruits, Flowers and Trees', 'Music, Dance and Drama', Food, Awesome structures of India, Rangoli and Kolam, India's Natural Beauty, Painting Styles of India. In the inspiration section is a corresponding thumbnail (small picture) for all 100 pictures, fully coloured to give kids an idea on how beautiful each picture can look when filled with colours.

Combining art tips, colouring and GK, this book is sure to leave you smiling, inspired and sometimes awestruck."
Theme
Authors
Shika Lal / Dhanashri Ubhayakar
Language
Book Condition
For Age Groups
Middle Readers (Ages 7-12)
Binding Option
Publisher
| | |
| --- | --- |
| Dimension (L x W x H) | 0 x 0 x 0 |
| Weight | 0 |