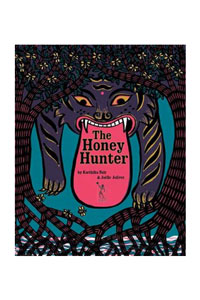 "In the land of eighteen tides, where three rivers meet, deep inside a mangrove forest near the Bay of Bengal, there lived thousands and thousands, maybe even gazillions, of honeybees, ruled by the Bee Goddess.
The bees filled their honeycombs with rich, golden honey - liquid light, some called it - until it ran down trees like rivulets of sunshine. All the animals and birds loved it, but one person loved honey more than anyone in the world: a little spiky-haired boy called Shonu.
One day, driven by hunger, Shonu breaks the honey-hunters' golden rule and sets off into the forest. Will he find the honey he so loves? Or will he be caught by He-Whose-Name-Must-Not-Be-Taken, the mighty and terrible Demon-Tiger?
Join one of India's finest poets and one of France's best-loved illustrators on a visual and poetic journey to the heart of the Sundarban."
THEME
AUTHOR
READING LEVEL
FORMAT
BRAND
| | |
| --- | --- |
| Dimension (L x W x H) | 0 x 0 x 0 |
| Weight | 0 |