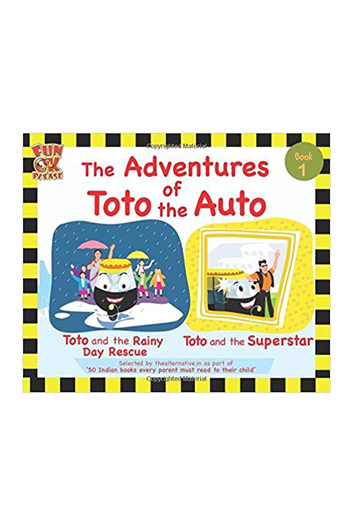 The Adventures Of Toto The Auto - 1


"Answer your child's queries and concerns about growing up in modern times by reading them stories about Toto the auto. In these lovable stories, Toto and his driver Pattu go about solving problems, helping others and having loads of fun along the way. These are stories that gently teach kids timeless values like kindness, bravery, and confidence along with the modern-day life skills needed to be happy in the world of today.

In this book:
Toto and the Superstar
Clever Toto helps Bollywood superstar KK get safely home and learns that you don't have to be the strongest or the biggest to help someone in need.

Toto and the Rainy Day
Toto gets a brilliant idea to help stranded school children on a rainy day. He learns that you are a real hero if you help others even when its not easy for you

Selected by thealternative.in as part of '50 Indian books every parent must read to the their child'

Selected by Lifeandtimes in Bengaluru as part of its India centric book list: '50 books we love'"
AUTHOR
Ruta Vyas / Nilima Eriyat
SERIES
ITEM CONDITION
TYPE
THEME
READING LEVEL
FORMAT
BRAND
| | |
| --- | --- |
| Dimension (L x W x H) | 0 x 0 x 0 |
| Weight | 0 |