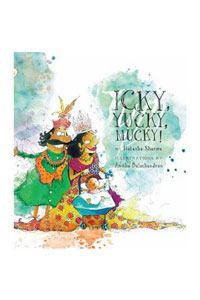 "Maharaja Icky is quite the most disgusting King you'll ever have the misfortune to meet. The ruler of the kingdom of Icktapur regales all with his utterly vile table manners.
While he sits licking curry from hand to elbow and juggling rosogullas, his beloved nail-nibbling queen Maharani Yucky, joins him. Banned from using spoons or nail cutters, the people of Icktapur are at their wits' end. But their hopes rise when the announcement comes that the Maharani is expecting a little baby...
With gleefully gross illustrations by highly acclaimed children's illustrator Anitha Balachandran, Icky, Yucky,Mucky! will have children squirming in their chairs and yelling with delight. And perhaps, learning a lesson or two in table manners!"
THEME
AUTHOR
READING LEVEL
FORMAT
BRAND
| | |
| --- | --- |
| Dimension (L x W x H) | 0 x 0 x 0 |
| Weight | 0 |