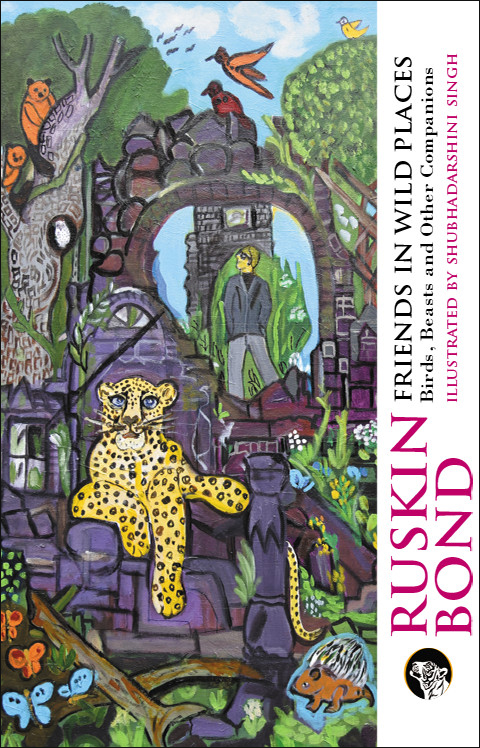 Friends in Wild Places - Ruskin Bond



Friends in Wild Places

Author: Ruskin Bond
Illustrator: Shubhadarshini Singh

'Below my cottage was a forest of oak…Nearly every morning, and sometimes during the day, I heard the cry of the barking deer. And in the evening, walking through the forest, I disturbed parties of Kaleej pheasants. I saw pine martens and a handsome red fox. I recognized the footprints of a bear. As I had not come to take anything from the jungle, the birds and animals soon grew accustomed to my face.'

Since he was a young boy, Ruskin Bond has made friends easily. And some of the most rewarding and lasting friendships he has known have been with animals, birds and plants—big and small; outgoing and shy. This collection focuses on these companions and brings together his finest essays and stories, both classic and new. There are leopards and tigers, wise old forest oaks and geraniums on sunny balconies, a talking parrot and a tomcat called Suzie, bears in the mountains and kingfishers in Delhi, a family of langurs and a lonely bat—and many more 'wild' friends, some of an instant, others of several years.

Beautifully illustrated by Shubhadarshini Singh, this is a gift for nature-and book-lovers of all ages.
TYPE
FOR AGES
THEME
Animals and Birds
Wildlife
AUTHOR
Piyusha Vir
Ruskin Bond
Perumal Murugan
READING LEVEL
Middle Readers (Ages 7-12)
FORMAT
BRAND
| | |
| --- | --- |
| Dimension (L x W x H) | 0 x 0 x 0 |
| Weight | 0 |
You may also be interested in these products