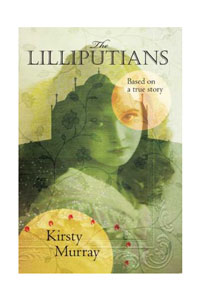 "It's MADRAS 1910. Poesy and Tilly are caught in a scandal that will change their lives forever. Singing and dancing across a hundred stages as members of a troupe of Australian child performers, called The Lilliputians, they travel by steam train into the heart of India. But as one disaster follows another, money runs short and tempers fray. What must the girls do to protect themselves and how many lives will be ruined if they try to break free?
Based on a real historical incident, award-winning writer Kirsty Murray tells a tale of intrigue and skullduggery, of friendships made and betrayed, set against the heat and dust of a lost Empire.
The Lilliputians is not only a gripping adventure story, but a vividly imagined historical novel, that will enthrall young readers and take them on an unforgettable journey back in time...
"This captivating historical story will take you back to a different era and completely immerse you in the travels and troubles that happen on tour. Kirsty Murray has done a great job bringing the childrens' tale to life!"—Hannah Mariska"
Theme
Authors
Language
For Age Groups
Middle Readers (Ages 7-12)
Binding Option
Publisher
| | |
| --- | --- |
| Dimension (L x W x H) | 0 x 0 x 0 |
| Weight | 0 |