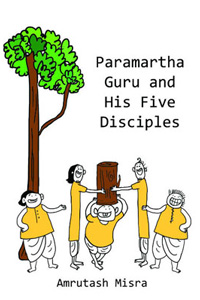 Paramartha Guru and His Five Disciples


Paramartha Guru was not very smart. He had five disciples - Fool, Dodo, Clown, Madman, and DB (short for Donkey-Brained). Together they were incapable of passing even a single day without doing something extremely foolish. Their adventures makes for hilarious reading.

These folk tales were first written in the eighteenth century by Father Beschi, an Italian Jesuit priest who found his way to Tamil Nadu in South India. Locally known as Viramamooni, he wrote extensively in Tamil.

This version is not the same as the original. It is a re-written version. It avoids religious biases and caste references present in the original. This version is in English and uses modern sensibilities.
Authors
Language
Book Condition
For Age Groups
Middle Readers (Ages 7-12)
Binding Option
Publisher
| | |
| --- | --- |
| Dimension (L x W x H) | 0 x 0 x 0 |
| Weight | 0 |